Marketing in Odoo

Discover how Odoo's marketing module helps you effectively manage your marketing activities. Collect leads and convert them into satisfied customers.

Campaign Management
Use the marketing module to set up a variety of campaigns. Create attractive emails, create targeted social media and advertising campaigns, and track the results in one central location. This way you increase your brand awareness and better reach your desired target group..

​Lead generation
Custom forms allow you to collect and manage leads. Create forms tailored to your branding and place them on your website or landing pages. Track your leads' interactions, such as opening emails or visiting your website, and send targeted follow-up actions to guide them further through the sales process.
Marketing Automation
Automate your marketing workflows to save time and provide personalized communications. Set up automated welcome emails for new leads, create behavior-based or interest-based campaigns, and deliver relevant content at the right time. This way you communicate in a targeted way that increases engagement and increases conversions.
Performance measurement and reporting
Stay on top of the performance of your marketing activities with detailed reports. Analyze data such as lead conversions, website traffic, email opening rates and ROI (Return on Investment). By understanding the results of your marketing efforts, you can optimize your strategies, better allocate your budget and improve the overall effectiveness of your marketing.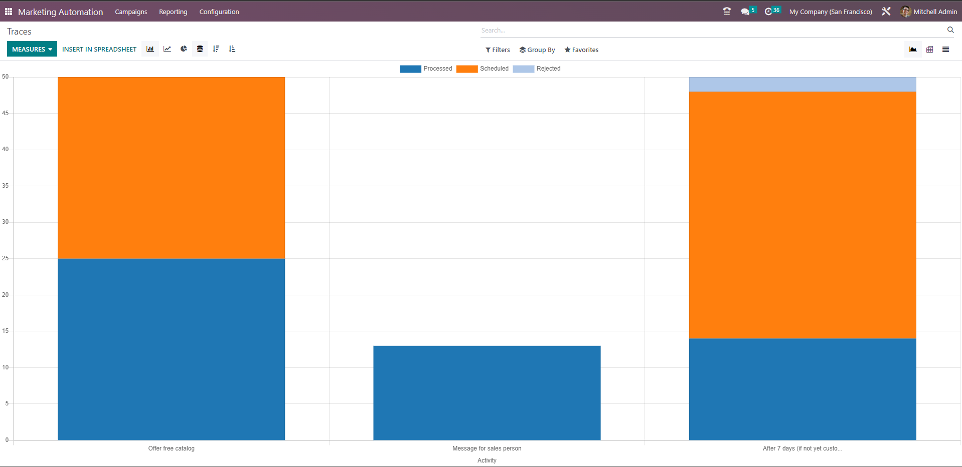 Request your free demo today and
discover the power of Odoo